Do any of these describe you?
need someone to talk to
struggling with your faith in God
discouraged, anxious, lonely
coping with divorce
grieving the loss of a loved one
diagnosed with a terminal illness, or family member of someone who is
hospitalized
lost a job
having financial difficulty
going through a transition
any other difficulty where you just need someone to talk to
Stephen Ministry is here to help!
A Stephen Minister is a caring Christian friend who walks beside a hurting person and really listens. Stephen ministers receive 50 hours of training to provide distinctively Christian care. Private, Confidential, Long-term care for any difficulty. Nothing is too large or too small.
Stephen Ministers are the "After People."
after the phone call you hoped you'd never get
after the funeral, when everyone has left
after the relationship fall apart
after the last child honks the horn, waves and drives away
after the baby arrives, demanding more of you than you ever dreamed possible
after the pink slip
after the pastoral visits
after your family and friends have heard your story one too many times, but you still need to talk it out.
After … that's when these men and women are there for you, or for your friends, neighbors, coworkers, or relatives in the Marion area. Trained to provide one-to-one support to people experiencing a difficult time in life, Stephen Ministers come alongside you for as long after as needed. First UMC Stephen Ministry serves not only church members, but anyone in the community.
The name Stephen comes from St. Stephen, the first layperson commissioned by the Apostles to provide caring ministry to those in need (Acts 6). Like the Apostles, more on-going needs exist than pastors can effectively meet by themselves. Pastors can't always be there week in and week out for everyone in need. But a Stephen Minister can. "We're care-givers; God is the cure-giver," said Stephen Leader Lynn Lish. "We're not about producing outcomes. Instead, we're about just showing up to share the love of Christ with that person."
Stephen Ministers begin a caring relationship when he/she is matched with a person experiencing a life slump or crisis. The Stephen Minister meets with that person weekly. "We don't fix anything," says Stephen Leader Mike Lish. "But we do listen, encourage, and provide emotional and spiritual support for as long as needed."
As one care receiver shared, "The time I spent with my Stephen Minister was the only time in the week when I could truly focus on my own needs. She was there, just for me."
One of the best gifts you can give yourself – or someone else going through a life upheaval – is a Stephen Minister.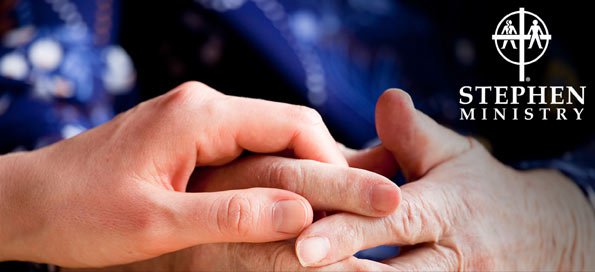 For more info, or to reach out to a Stephen Minister, please fill in the form below.